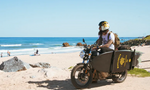 Building the perfect surf adventure scrambler wasn't as hard as you might think, and riding it down to

 

@wheels_and_waves

 

was a dream come true for

 

@louieleprevost_barber

 

- hit the link in bio to open up the throttle and ride on!

With a set of spanners, a few knocks of a hammer and a bit of YouTubing we've managed to transform our very own

 

@royalenfield

 

Interceptor 650 into the perfect surf adventure scrambler.

We've fitted a beautiful prototype surfboard rack and tiny speedo from

 

@baakmotocyclettes, upgraded the pipes to a meaty 2-1

 

@sscycle

 

can, fitted some seriously knobbly

 

@continental.tyres

 

and strapped on a

 

@wingmanoftheroad

 

Goose roll out motorcycle tent, ready for those early morning strike missions.

The incredible

 

@imagedesigncustom

 

killed it with one of the raddest custom paint jobs around and

 

@bossurfboards

 

created a twin fin dream machine to match.

The final delivery of bolt on parts is heading our way from

 

@badwinners

 

to kit out the Beach Hopper with some custom handlebars, a new seat and tail tidy, finished off with a killer front headlight. Watch this space!