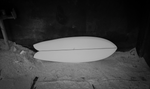 SUNFISH
"Not just your traditional fish"
The classic fish is often written off as an old fashioned design, but our Sunfish is no such thing. The low rocker and beveled rails at the front might have a retro feel to them yes, but the heavily foiled and refined and somewhat pulled in (for a fish) tail along with varying bottom contours brings the Sunfish right into the 21st

 

century - This is very much a progressive surfboard design made for ripping.

-  I build the Sunfish as either:  A keel fin  (with a Twinzer option)  or a Quad - the Keel is fast and fun in a huge range of surf and brings that fun skatey twinny feeling everyone loves,  I recommend either a modern keel design (Sun keel) with flat foil fins or our VMKeel fins go bananas in these! as a twinzer if your up for some experimentation an upright twin fin paired with some twinzer canards makes for a very very mean performance option, or if you're more of a power surfer and find you overpower twin fins, the quad set up is the one for you. I recommend the split keel style quad fin set up (quadfather), it still retains the feel of a twin but you're able too push much harder through turns, a nice contrast between speed and hold.


I run the Sunfish in 3 main tail templates, The first is the 'in-cut bump wing' tail template, odd on the eyeball and a mouthful to pronounce, this design element is highly functional - It reduces the curve between the feet making it much faster on rail than your traditional keel fish, the bump then allows for tighter pivoting off the tail (heavily inspired by both the surfing and shaping of Ryan Burch). This is my standard tail template for the Sunfish.

Second is my straight cut template, which is for those that cant get behind the 'in-cut bump wing' (it does look a little weird), this is a more traditional fishy tail template, i've pulled in the tail still like the in cut so its sub 11" which keeps some curve in the rear end making backhand surfing a lot more controlled.

And last but not least is a classic Diamond tail rounding out our Sunfish collection, the diamond pulls in the tail somewhat while reducing rail line making for a very shredable nuggety small wave destroyer, as far as grovel boards go this is the best option of the 3 for  groveling conditions.






Waves wise, down the line waves are ideal for the sunfish, likewise fun beach break bowls where you can zip in and out. Not really a groveller but will handle lesser conditions with a bit of juice, the double pin tail (swallow tail) will surprise you in bigger more powerful surf.
TYPICAL DIMENSIONS:
5'0 x 20 1/2 x 2 1/4
5'2 x 20 1/2 x 2 3/8
5'4 x 20 3/4 x 2 1/2
5'6 x 21 x 2 5/8
5'8 x 21 1/4 x 2 3/4
5'10 x 21 1/2 x 2 3/4
6'0 x 21 3/4 x 2 7/8
6'2 x 22 x 3

SIZE WISE: I'd recommend going the same size as you would usually ride a fish the incut tail does reduce surface area but too ride at full potential you dont want it too be huge.. if you've never had a fish before i'd suggest looking around 5/6" shorter than you are tall as a great starting place.

* new for 2021, i have added a straight cut outline tail template and a diamond tail too..