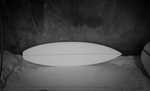 OG
 - SPEED DEMON -

A High Performance ShortBoard for high performance wave slaying, feeding off that 90's glass slipper vibe, but modernised with things like... volume, heavy rockers designed too fit into the tightest of pockets for radical surfing manoeuvres with great precision, and thus is better suited too capable shredders. I've been working exclusively on this with Seb Smart for the last 18 months, and were both extremely excited too bring this too market.
______________________________
"I've been surfing all sorts of board for the past 5 years. short, fat, thin, wide what ever. All sorts. I've been on a mission trying to find something that feels perfect. An all rounder. And something longer to get a true wrap effect when doing a manoeuvre. Hugh and I combined length with foam and the right secret amount of rocker and entry to finish with the OG. The first surf on it I knew we were on too something special, and  I haven't been off it since. The OG is my favourite board its a classic high performance short board with the perfect shape and thickness. The OG is so good it'd make Harry Potter consider parting ways with his nimbus 2000."
- Seb Smart
______________________________

Spearheading the front of our 'High Performance' Range the OG is designed too be ridden a little longer than the F2 model or any other modern HPSB (1 - 2" longer than you are tall), the outline is somewhat sleek compared too most modern shortboards with a nose profile thats elongated with a flicked up rocker and a tail outline thats pulled in behind the back foot for control, this is a precision wave slaying machine not for the faint hearted!
Lower rail profile with a slight boxy feel too it keeps things responsive and a single concave throughout with a touch of double between the fins.
glassed a little lighter with 4oz bottom and double 4oz deck as standard, with a carbon tail and 90's style CORE BOS nose cone logo!



Glass on fins available for those chasing that full 90's shortboard DREAM.


Recommended Dimensions:
5'6 x 18 x 2 - 21.9L
5'8 x 18 1/4 x 2 1/8 - 24.6L
5'9 x 18 3/8 x 2 3/16 - 25.8L
5'10 x 18 1/2 x 2 1/4 - 26.7L
5'11 x 18 5/8 x 2 516 - 28.0L
6'0 x 18 3/4 x 2 3/8 - 28.9L
6'1 x 18 7/8 x 2 7/16 - 29.9L
6'2 x 19 x 2 1/2 - 31.0L
6'3 x 19 1/8 x 2 9/16 - 32.4L
6'4 x 19 1/4 x 2 5/8 - 33.8L - (Seb Smart Dimensions)
6'6 x 19 1/2 x 2 3/4 - 37.1L
6'8 x 19 3/4 x 2 3/4 - 39.5L