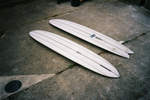 MEGA (GLIDER)


MEGA
A serious board for cross country style surfing - a streamlined outline, rocker and foil usually with a blended vee and subtle concave bottom to harness speed with low rails: forgiving up front and hard in the tail to promote lift and control. Despite the length these are not for beginners, these are a serious challenge too ride, but have a very unique and very addictive feeling.
- Trim with Style -




" SECTION CONNECTOR"
I've been slowly refining and tweaking the MEGA for the last 8 years, more on a passion project level originally but they've gained a lot of interest over the last 2 or 3 years making me want too bring MEGA into being an actual offering..  I run 2 main templates one being a pintail style glider and the other a fish simmons type template, both make for a very different ride/feel but work off the same principles on rocker/rails/bottom shapes, an absolute joy too ride in a range of conditions and wave types. I like the pintail as a single fin or 2+1, it works great in larger waves (overhead not BIG) and has enough rail line too get you round the longest of sections, my favourite is where i can take off MEGA early and set a line and lock into some heavy trimming but still get over the fin and crank it round, as a single fin one of my 8" VBM fins feels spot on, with all that rail line in the water less fin is optimum, as a 2+1 it makes it a little easier too get on rail which makes smaller surf (sub waist high) a lot more fun. as for the fish simmons with the wider tail block its a little more stable and picks up waves with ease, i've played a lot with fin set ups from twins - quad - thruster and i somewhat feel thruster is optimum on this design it feels both fast and nimble, there's a nice sand bottom point not far from the factory where i love too ride my 11'6 where i can glide effortlessly through sections linking up long rides with ease, but i also enjoy riding it a slightly punchier and all but slower beach breaks. All in all the MEGA is a unique and addictive feel which i cant recommend enough.




Sorry, there are no products matching your search