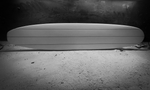 SMOOTH MOVER (stage 1, 2 & 3)
"SUMMER LOVERS"

 - Designed with all kinds of smoothness in mind, smooth waves, smooth style, smooth lines - all the smoothness at once -hence the name smooth mover - Like many of my boards i run this model in a few variations, i tend too run a similar outline/plan shape and adjust the bottom shape and rail so we have: The Smooth Mover Stage 1 being the more progressive option, it's a challenging but highly rewarding ride, for those able to harness the speed and manoeuvrability of the vee bottom shape. - Where the Smooth Mover stage 2 has concave running inside the vee basically the full length underneath  which adds stability to the riding experience as well as lift through noserides and drive thru turns, or we have the Smooth Mover Stage 3 which is a blend of the 2 but spicier.


- Stage 1 (S1) - (Original)
Part hull, part transitional era throwback, part spaceship. A highly refined log with a full vee bottom, 'Son of sam' inspired feel, the S1 is well suited to typical beach break logging conditions. It favours lighter, smoother, quicker foot work and also loves clean, well shaped point breaks if you can find them... This is my most progressive single fin log design, perhaps a little more tricky to ride well but once you find the sweet spot you'll fall in love.
I highly recommend the Smooth Mover S1 to competent longboard lords looking for a good small wave all rounder. To be ridden lightly on the nose and hard off the tail.



- Stage 2 (S2) - (our most popular)
An evolution of the S1 but heading in a slightly different direction. For those that like the progressive look/feel  of the 

S1 and the outline/rocker
but can't get behind the vee bottom (its not for everyone), the S2 shares many aspects but the main difference is the pronounced concave that runs inside the rolled vee from nose to fin, the rails are lifted in the nose, soft in the middle and lifted in the tail with a slight hard edge out the back for a nice blend of reactive yet still forgiving.

- This is probably our most popular progressive longboard model being a super versatile all rounder single fin log for UK waves. - It holds tight on the nose and loose off the tail, for me its an ideal summer board, it just feels alive.



 

Typical Dimensions for SM1 & 2

9'0 x 22 x 2 3/4
9'2 x 22 1/4 x 2 3/4
9'4 x 22 1/2 x 2 7/8
9'6 x 22 3/4 x 2 7/8
9'8 x 23 x 3
9'10 x 23 1/4 x 3 1/8


- Stage 3 (S3) - (new team favourite)



A continued evolution of the SM design, this is the next phase which goes slightly more spaceship - whilst featuring attributes from both the SM1 & SM2 but pushing the design too more extremes, i've moved the wide point back even more and added a bit more hip in the rear 1/3 making it manoeuvrable as they come, it also features a steady but narrow nose concave inside the roll with more roll in the mid and out the back end with a touch of panel vee around the fin, making it nimble and responsive - it will lock into a nose ride with ease and with the

 slight concave deck / thinned out rail it makes it fizzle with energy from the get go. the whole of our log division have never been so excited about a board as this one, if your up for a log that can only be described as 'ecstatic' the SM3 is the log for you.





SM3 Typical Dims:




9'0 x 22 x 2 1/2




9'2 x x 22 1/4 x 2 1/2




9'4 x 22 1/2 x 2 5/8




9'6 x 22 3/4 x 2 5/8




9'8 x 23 x 2 3/4




9'10 x 23 1/4 x 2 7/8





Fin pairing: I highly recommend my Saber Tooth Template fin or any flex fin with a bit of base for optimum performance in the smooth mover S1, S2 & S3,