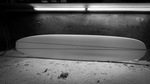 MIDNIGHT EXPRESS

" ALL ABOARD THE MIDNIGHT EXPRESS, get your tootsies too 12 o'clock and you'll be locked and loaded on a one way ticket too new levels of nose riding sensations you never even knew existed" - Hugh Brockman (creator)
____________________
The Midnight Express is my go-to traditional single fin log template. 
Featuring a flat entry rocker with a nice tail kick which combined with a narrow underneath extended nose concave running into a rolled vee. Regal on the nose and very fine off the tail, the Midnight Express is the board of choice for anyone looking to dominate in classic logging conditions, it will not

 

disappoint

.. Refined and Balanced in all the right places the midnight express is fast through the middle, loose off the tail and holds tight on the nose - very stable, very predictable and very easy to ride, thus making it a great log option for novice riders figuring out the very basics of good logging, but an absolute beauty of a plank for the more advanced rider looking for a super versatile all round traditional single fin log to clock up some time on the nose and turn hard off the tail. We build the Midnight Express in 3 different variants:


'STANDARD' - Based around the 'baby' square tail which creates a bit more curve in the last 12-18 inches for easy turning, the standard also features a unique tail kick to inverted rocker which not only thins out the tail behind the fin box but also helps too lock water over the tail end and suck it down too the wave when doing nasal exploration making this beast a beauty of an allrounder suitable for everyday conditions. 
'SEAHAWK' - Featuring a timelessly classic pintail for drawn out arching turns, i streamline the nose template a touch along with tapering the rail a smidge and make the bottom contours a little more subtle creating a very classic log  perfect for slightly more powerful waves or those that enjoy the smoothness of a pintail.
'SLEEPING POLICEMAN'  A double step deck design for responsive turns and unparalleled lift by reducing volume and increasing flex, paired with a wide square tail make for an unbeatable nose rider, summer wouldn't be the same for me without one of these in my quiver, if your up for something a little different this is one.


"As good a classic single fin as i've ever ridden." - Mike Lay





-----------------------------------------
"A SUMMER WONDER"


TYPICAL DIMENSIONS:
9'0 x 22 1/2 x 2 7/8
9'4 x 23 x 2 7/8
9'6 x 23 x 3
9'8 x 23 1/2 x 3 1/8
10'0 x 23 1/2 x 3 1/8
10'6 x 24 x 3 1/4



Available from 9'0 too 10'6, in a range of tail shapes, i highly recommend the MidnightExpress with a pivot style fin and volan glassing for that traditional feel/look..