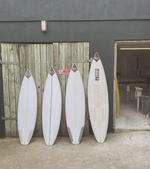 Here's a lovely pack of 4 of boards for Seb too get him through summer and into Autumn, from left too right we have:
6'1 OG wide tail - 6'1 1/2 x 19 x 2 11/16 - 33.2L - this im thinking will be his go too for the summer, with the slightly wider tail it will work a little better in the dribbly stuff, i've glassed with with a 4oz S-glass bottom and a 6oz S-glass deck with a carbon strip stringer on the bottom side. 

6'3 OG - 6'3 x 19 1/2 x 2 5/8 - 34.4L - this is a fairly regular OG, it has 25mm carbon stringer both sides and is glassed with 4oz S-glass bottom with double 4oz S-glass deck.

6'6 OG - 6'6 x 19 1/2 x 2 9/16 - 34.5L - again a standard OG shape just stretched out and thinned out a little in the center, hopefuly this will cater too any bigger walls Seb can find this summer/autumn, its glassed with 6oz bottom with 4+4oz S-glass deck, for a little added durability.

7'2 OG+ 7'2 x 20 x 2 3/4 - 55L - Seb wanted a big boy shortboard, too ride as a step up in some meaty waves if the opportunity presents itself but also as a fun summer cruiser, im dubious on the summer cruser ability as it has nearly 6" nose rocker, but it will be a mean step up when the time comes. it has a 50mm carbon strip bottom with 6oz bottom with double 6oz deck.
Hopefuly some action shots too follow sharpish.
- HB