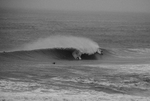 Good friend and BOS hellman @jackjohns on a BOMB last winter - This wave actually won Down The Line warrior of winter contest, a contest hosted by the legendary surf shop in Hayle, West Cornwall.

- Funny story but Jack won the year before on the same board and @pgeall the year before (first year the contest ran) on the very same board.. Magic 8'0 some would say - who wants too borrow it for this winter?! (see pic below from when Pete Picked it up from the factory back in December 2017).


Its very gratifying too have had 3 wins on the same board in 3 years, after working with Jeff Bushman on the North Shore, Oahu and building a lot of guns for multiple winters their one of my favourite things too shape, this 8'0 is one of my ChubLorde designs which features a full vee bottom with moderate rocker and taped rails its a design that is built too handle the drop but also harness the speed and move around the wave.. if your looking too step up your game into some bigger juice i cant recommend these enough.




 surf shot by @jamesbowdown



- HB