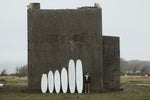 Welcome too the first edition of
BLADE LORDZ
 - a feature about BOS aficionado and their current wave riding weapons (
BLADES
) - Here for Vol.1 let me introduce too you my good friend Frosty: Professional photographer, pizza lover and possibly the most stoked out man i know - who goes by the instagram handle 
paper eyes
for anyone who wants too check out his work and adventures. - 
So here's his Bladez - a collection we have curated together.
L-R
Sunfish
TwinPin
WidowMaker
VBM Ultra
Midnight Express
SM3
Sunfish - 5'6 x 20 7/8 x 2 5/8
glassed 6/4+4S
Straight cut Sunfish outline, set up as a keel fin, i've taken a little foam out the front too make it a little lighter, but otherwise its a pretty standard SUNfish.
Twin Pin - 6'4 x 19 3/4 x 2 1/2
glassed 6 / 4 +4S
Pin tail, slightly more pronounced channels that i normally run (knowing Frosty's headed too Central America for winter, so hopefuly some uber glassy conditions coming up).
Widowmaker 6'6 x 20 x 2 5/8
glassed 6 / 4+6
This was actually a stock 6'6 that Frosty picked up just before last summer for a potential strike mission oooop North, and its stayed in the collection ever since!
VBM Ultra - 7'2 x 21 x 2 3/4
glassed 6 / 6 + 8oz volan patch
A full custom we made based off some tweaks too the VBM template, with an S-deck, pinched/bladed rail and a slightly more rockered front end, a single fin for heavier waves.
Midnight Express - 9'4 x 22 3/4 x 2 7/8
Square tail tripple stringer with Full VOLAN glassing, it has a little extra weight for those brisk offshore days, a versatile UK log.
SM3 - 9'2 x 22 1/2 x 2 5/8
A custom we designed together based on the SM3 file, with a slight bit more hip in the back end and slightly thinned out rails, a light glass schedule also as this ones headed too central America with him this winter, so it needed too be a bit easier too travel with.