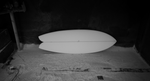 SUNFISH 2.0
THE SUNFISH IS A VERY VERY GOOD FISH SHAPE, HOWEVER THE INCUT BUMP WING THING FREAKS PEOPLE OUT A BIT, WHICH IS UNDERSTANDABLE AS IT LOOKS WHAT CAN ONLY BE DESCRIBED QUITE FANKLY AS UGLY... SO WE'VE MADE THE SUNFISH 2.0, WHICH UTILISES THE SAME ROCKER AS THE SUNFISH, TAKEN OUT THE BEVEL STYLE RAIL ADDED IN A LOWER MORE PERFORMANCE STYLE RAIL AND THEN RUN A NICE CURVY RAIL LINE TO SLIGHTLY PULLED IN TAIL (FOR A FISH), THE VERDICT? LOTS OF DRIVE, STILL EASY TO GET ON RAIL WITH THE LOW RAILS AND A SHED LOAD OF FUN, IDEAL FOR A NICE RANGE OF SURF.
sizing, I recommend riding the SUNFISH 2.0 a bit shorter than you are tall, its stock dimenisons arent quite as baubus as the OG SF, so its not got as much volume making is a little easier too throw around. the SF 2.0 comes standard with the pulled in swallow, but also highly recommended as a wing pin tail with or without channels for those that like to ride twin fins in juicy surf.

fin wise, we make these with a range of fin set ups, for the regular swallow its available as a twin ideally set up as a keel fin, we also do the wing pin version as a regular bottom or channel bottom set up with some MR style twin placement for a slightly more performance orientated ride in better surf.
typical/stock dimensions:

5'4 x 20 x 2 3/8
5'6 x 20 1/4 x 2 1/2
5'8 x 20 1/2 x 2 5/8
5'10 x 20 3/4 x 2 3/4
6'0 x 21 x 2 7/8
6'2 x 21 1/4 x 2 7/8
Sorry, there are no products matching your search