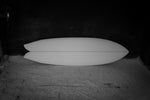 Speed Dialler
SPEED DIALLER - THIS IS MY TAKE ON A CLASSIC QUAD FISH DESIGN, VERY FAST, LOTS OF DRIVE THROUGH TURNS AND A WHOLE LOT OF FUN. IF YOU LIKE THE IDEA OF RIDING A FISH BUT FIND TWIN FINS A LITTLE LOOSE OR NOT DRIVEY ENOUGH THEN THE SPEED DIALLER IS A GREAT OPTION. FLAT DECK WITH STEP FOR LOW RAILS, LOW ROCKERS AND A BOTTOM SHAPE THAT CONSISTS OF VEE / SINGLE / ENHANCED OR BONZER STYLE DOUBLE / VEE FOR SPEEDY SURFING.
Size wise, in larger sizes the Speed Dialler is a great option for those moving down from a minimal etc, and looking for something a tad shorter and more functional, and then in shorter sizes is a very fun performance fish for the more experienced surfer.
 Highly recommended with Split Keel / Controller style fins which we stock here.
Stock Dimensions:

5'6 x 20 x 2 1/4
5'8 x 20 1/4 x 2 3/8
5'10 x 20 1/2 x 2 1/2
6'0 x 20 3/4 x 2 5/8
6'2 x 21 x 2 3/4
6'4 x 21 1/4 x 2 3/4
6'6 x 21 1/2 x 2 7/8
6'8 x 21 3/4 x 2 7/8
Sorry, there are no products matching your search