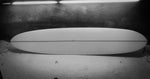 SLEEPING POLICEMAN
SLEEPING POLICEMAN IS MY PROGRESSIVE SINGLE FIN LONGBOARD DESIGN, A STEP DECK DESIGN FOR SOME FLEXUAL FEELINGS AND POINTY AT BOTH ENDS IN A DOUBLE ENDA KINDA WAY. THIS IS THE BOARD FOR GOOD SHAPED FUN BEACH BREAK WAVES, IT FAVOURS QUICKER FOOT WORK BUT STILL LIKES TO BE SURFED HARD OFF THE TAIL.
"FLEXUAL FEELINGS"

As a double step deck design the term Sleeping Policeman refers too the very noticeable speed bump or hump in the middle of the board, whats happening here is the step is reducing the thickness from about 3ft from the nose and thus lightening up the front end making it easier too swing about, whilst also making for a flexier nose for enhanced nose riding, the step in the tail end is more for leverage with the back foot along with a slight concave on the deck side also for enhanced nose riding. Staying true too the nature of the rest of the board the rails are also fairly out there being quite forgiving on the hump whilst being much more refined and slightly turned up wards on the flexy sections this makes a nice contrast between friendly and bitey, oh and theres a subtle singe concave in the front half and a rolled vee out the back which keeps things feeling fast and fluid.

FIN WISE: I thoroughly recommend a Greenough 4A or other similar flex fins
Sizing, length wise i would stick too what you normally go, so if you usually go 9'6 then riding the "Sleeping Policeman" in a 9'6 also.. the thickness will sound a little big perhaps but were just displacing the reduced volume steps back into the middle hump. - Who should ride the Sleeping Policeman, this is a good question.. if you tend too ride faster sand bar waves i could not highly enough recommend this for fun factor, you will literally be hitting the end section by the time guys on their big heavy nose riders are doing a bottom turn. It can handle a bit of size and the subtle bottom shape can handle a bit of wind chop also.. if a zippy lightweight progressive single fin longboard is what your after this is the one!

Typical Dimensions:
9'2 x 22 1/2 x 3
9'4 x 22 5/8 x 3
9'6 x 22 3/4 x 3 1/8
9'8 x 22 7/8 x 3 1/8
9'10 x 23 x 3 1/4


Sorry, there are no products matching your search