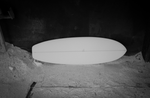 EDGE BOARD
A George Greenough inspired design. Essentially two surfboards in one: a board eat board, which features a narrow concave board with hard edges, which is placed inside a displacement hull with full lifted rails (reverse). A highly refined design with a wide template and highly foiled tail allows it too work in all conditions and excels as the power comes on.  - Thanks George.


Edge boards have become my new favourite board, for me its something thats constantly evolving as its a concept that works in a huge variety of shapes, its something i think i will always have room for in my quiver as its very unique, i'm a bigger guy and i like big boards, sometimes my big boards feel a bit corky and vast when in smaller surf, the edge board is very unique as the lifted rails where the edge is heavily reduces rail volume at the apex of the rail, my 3 1/8" thick edge boards has a rail which feel like a 2 1/2 thick shortboard (almost), thus immediately it feels positive from the first bottom turn. plan shape wise we have a very stubby template with a wide nose and tail and relatively straight mid section for drive, the bottom gets a little more complex with a heavy hull/belly in the nose which sets up the edge bottom at the rail.


These are highly customisable boards and we only make a handful of these a year, prices start at £900 as these are highly labour intensive boards too shape / glass / sand - send us an email too chat more on edge boards!





TYPICAL DIMENSIONS:

5'8 x 21 x 2 3/4
6'0 x 21 1/2 x 2 7/8
6'6 x 21 3/4 x 2 7/8
7'0 x 22 x 3
Sorry, there are no products matching your search